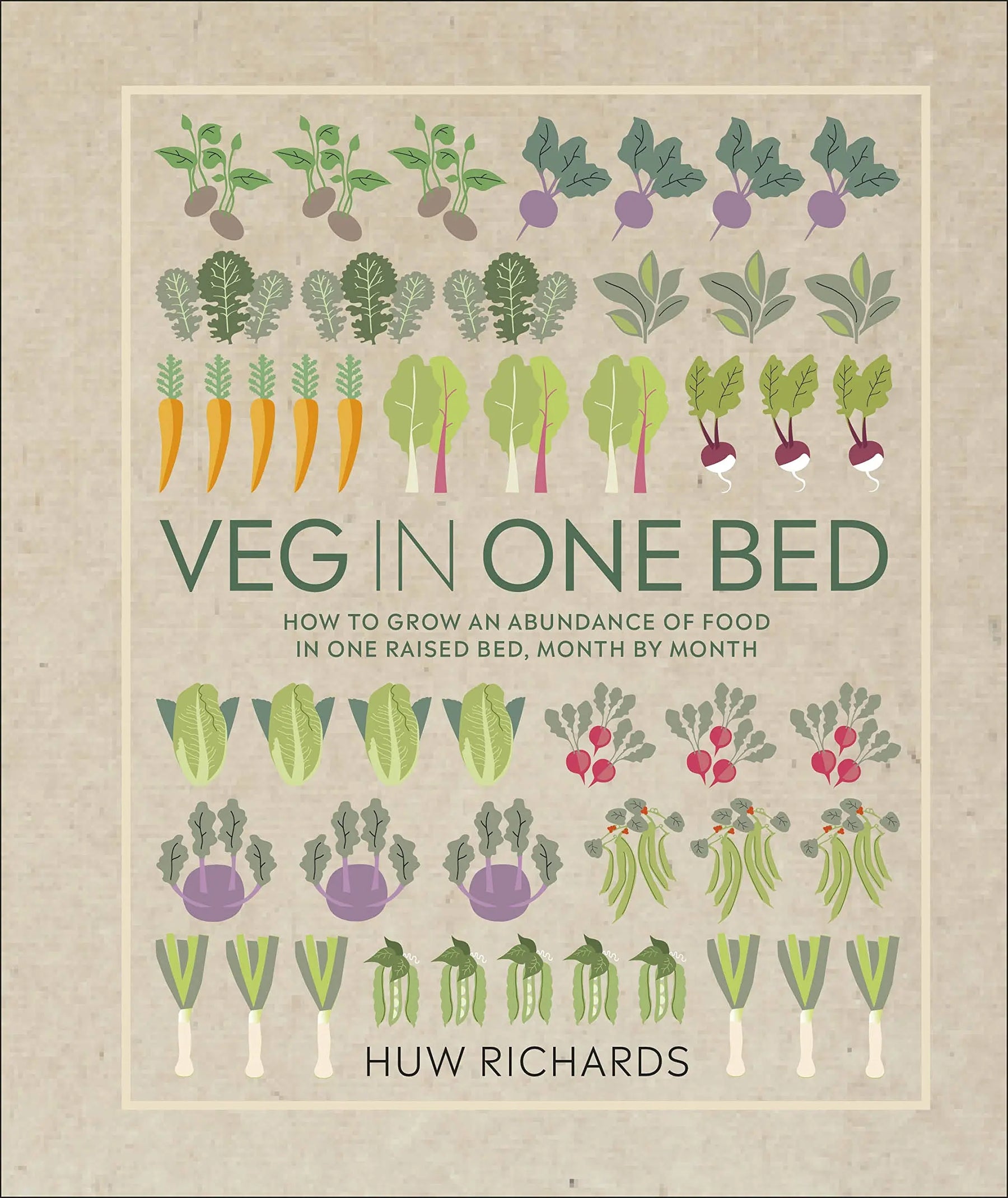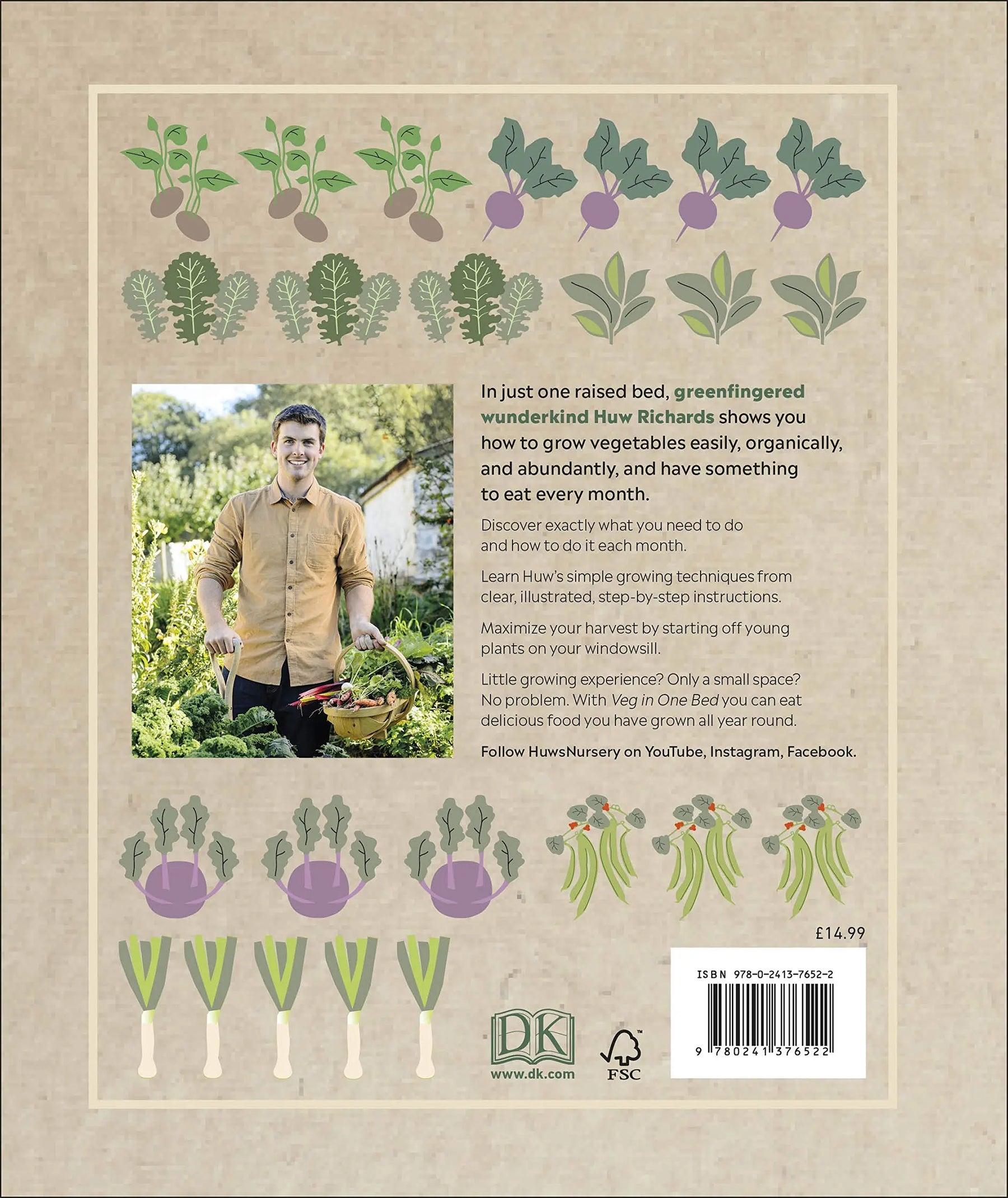 Veg in One Bed : How to Grow an Abundance of Food in One Raised Bed, Month by Month
Top grossing gardening book of 2019 in the UK. "Huw Richards is the future of gardening" (The Guardian)"This beautifully illustrated book teaches you what to do month-by month in order to have success in the garden"(The Sun)"Ideal for new allotmenteers and gardeners starting to dabble in growing their own crops" (The English Garden)In just one raised bed, greenfingered wunderkind Huw Richards shows you how to grow vegetables, organically, abundantly and inexpensively so you have something to harvest every month of the year. Grow your own vegetable garden with this practical, straightforward gardening guide.

There is nothing more fulfilling than growing your own home produce. You don't have to be a seasoned gardener to produce a healthy, flourishing garden - all you need is a few seeds, water, sunlight, good advice and patience!In just one raised bed, author Huw Richards, shows you exactly how to grow vegetables organically, abundantly and inexpensively so you have something to harvest every month of the year. Here's what you'll find inside:- A month-by-month guide showing you what to do and how to do it, including what pests to look out for, and what can be harvested- Covers the first year in detail, with the final chapter on 'Next Steps' providing suggestions of what to do in years two and three- Illustrations show you what the bed should look like from month to month- Includes instructions on assessing your site and building a 1.2m x 3m raised bed- Alternative vegetables are recommended, allowing readers to tailor their bed to their tasteMonth by month, discover what you need to do and how to do it.

Try becoming more self-sufficient in your allotment, a small garden, or even on a roof terrace. Veg In One Bed shows you that you can have a small thriving garden and still be able to maintain it, yielding fresh vegetables all year round. Learn what to do each month on your windowsill, where you'll raise seedlings, and in your raised bed, where your plants will grow to maturity.

Everything is explained in clear, illustrated steps: building your bed, growing from seed, planting, feeding, and harvesting. This gardening book not only guides you through the whole process of building your raised bed through to harvesting your vegetables but also provides sustainable gardening practices, which will resonate with all gardeners committed to protecting our planet. This makes for the perfect book for new gardeners who want to grow their own produce, as well as the new generation of gardeners who are seeking a gardening guru of their own age.

Veg in One Bed goes beyond the inspiring demonstrations on his YouTube channel "Huw Richards - Grow Food Organically". In this book he organises all his ideas and suggestions into a blueprint for growing your own vegetables month by month. Little growing experience? Only a small space? No matter - with Veg in One Bed, you can still eat food you have grown all through the year.
Returns Policy
If you are not completely satisfied with your items then you can return them to Sgt Prepper Shop within 15 days of delivery. Damaged items or faults need to be reported within 48hrs of delivery.
Please return to:
Sgt Prepper Shop
10 California
Witton Park
Bishop Auckland
DL14 0DR
Please include a note with your order number and the reason for returning each item.
Shipping

We can ship to virtually any address in the UK.

When you place an order, we will estimate shipping and delivery dates for you based on the availability of your items and the shipping options you choose. Currently, all shipping is provided by Royal Mail.